Frequently asked questions about COVID-19 (Coronavirus 2019)
Updated March 23, 2020
As the impact of COVID-19 continues to be felt around the world, here's what you should know as a member of our EF family: We have brought all EF groups traveling internationally and within North America home. We are postponing any tour that was scheduled to depart in March and April, and we are committed to offering groups with later departure dates flexible options should they be necessary. We are closely monitoring the situation with guidance from the U.S. Department of State, and other relevant U.S. and international authorities.
This is a difficult situation for everyone, but the health and safety of our travelers and staff is our top priority. EF has been leading the educational travel industry for 55 years, and we will continue to lead today, tomorrow, and in the coming months and years. We thank you for your patience in these unprecedented times. Please know that we're here to support you, and, even though travel feels uncertain right now, we look forward to working together to ensure that seeing the world remains a possibility.
+++
Given this unprecedented situation, we have some exceptions to our
Peace of Mind
program. These changes now provide enhanced options for groups and individuals.
1. Our group was supposed to travel this spring but our tour was postponed. What happens now?
To make the process as easy as possible, all individuals that were scheduled to travel in March or April will now automatically receive an electronic Future Travel Voucher on their account for the full amount they paid (including all non-refundable payments) which is valid to use through September 30, 2022.

Your Group Leader can take advantage of the following Peace of Mind options on behalf of the group:
Move your existing tour to a new date

If your group chooses to simply move the existing tour to a new date there is nothing you need to do. We will automatically enroll students on the new tour and apply the value of the voucher to cover the associated costs. This will allow everyone in your group to rebook to the new date easily. To better support you, we have made the decision to honor your current tour price for any rescheduled date through 2021 so there will be no additional costs to move the tour.

Choose a new tour and new date

If your group decides to choose a new itinerary to travel on at a later date, we will simply enroll you on the new tour and apply your voucher.

Choose to take Future Travel Vouchers for the entire group

We understand that it might be difficult to make plans for a future tour at this time. Therefore, your Group Leader can elect to just keep your electronic Future Travel Vouchers on your account until your tour can be rescheduled or for you to be able to use with one of our other EF programs or redeem for a refund. For the full list of your redemption options visit our Future Travel Voucher website. There is no need to make any decisions now, your voucher is valid through September 30, 2022.
2. Additionally, we have enhanced your options under the Peace of Mind program in a few ways, including:
If an individual cannot join their group's rebooked tour but still wants to travel, they can use the full amount of their voucher toward any other EF Tours product, including tours for adults, language travel programs, and our tours designed specifically for graduating seniors. Please visit our Future Travel Voucher website for details on all of the exciting ways you can redeem your voucher.
The full amount of the Future Travel Voucher is also transferable to anyone else in the traveler's family or school community to enable people to transfer or resell their vouchers and recoup their investment.
If an individual would rather redeem their voucher for a cash refund, they will be able to do so, less $1,000. This allows us to partially cover costs related to non-recoverable payments to our suppliers, our staff, and the investment we have always made and continue to make in itinerary, date and destination flexibility.
Click here for frequently asked questions about our Future Travel Vouchers.

3. What should I do if my group has not yet rescheduled our tour?
Rest assured, there is nothing you need to do now. Given the circumstances, it may take your Group Leader some time to work through the details of setting up a new tour. We have your Future Travel Voucher on file and recommend you stay in communication with your Group Leader on next steps.

4. My group is scheduled to travel after May 1st. Are we still going?
Given the evolving nature of the situation, our safety teams around the world continue to assess matters on a daily basis. At this time, we have only postponed trips through the end of April. For tours departing in May and beyond we are committed to providing you with a more comprehensive update by the first week of April. We will not resume tour operations until we receive updated guidance from the U.S. Department of State and feel confident that our travelers will be able to fully enjoy the immersive, culturally-rich experiences that we pride ourselves on delivering. To give you additional time, cancellation fees will not change through April 30. Your group also has all of our Peace of Mind options available to them and individuals may also elect to receive a Future Travel Voucher so there is no need to make a decision at this time. We recommend that you stay in contact with your Group Leader for the most up-to-date information regarding your tour.

5. What is an EF Future Travel Voucher?
As an additional measure in response to the COVID-19 situation we have amended the terms of our Future Travel Vouchers for all travelers that were scheduled to travel in 2020. A Future Travel Voucher is issued in the amount of all monies paid to EF. Future Travel Vouchers are transferable to immediate family members and to students or faculty in the same school district as the traveler to which they are issued. You do not need to make any decisions now, you have until September 30, 2022 to take advantage of any of the below options:

EF Educational Tours
EF Explore America
EF College Study
EF Gap Year
EF Ultimate Break
EF Go Ahead Tours
EF Language Schools

To view complete details on all of the ways to redeem your voucher visit our Future Travel Voucher website.

6. What are my refund options?
We know that the decision to travel in the next few months is a very personal one and therefore we have amended our policies so that individuals can elect to take a Future Travel Voucher even if their group is currently continuing to travel as planned. Taking a Future Travel Voucher instead of cancelling allows you to protect your full investment and travel at a later date that works for you – you will have the option to use the voucher on a variety of EF programs. In addition, Future Travel Vouchers can also be redeemed for all of your monies paid to EF less $1,000 - which for many people is more advantageous than their current cancellation fees.

We made the decision several weeks ago to "freeze" cancellation fees – meaning that the cancellation fee bracket you were in as of February 24th would not change until April 30th to allow you more time to make a decision. The chart below outlines the amended options you and your group have available to them.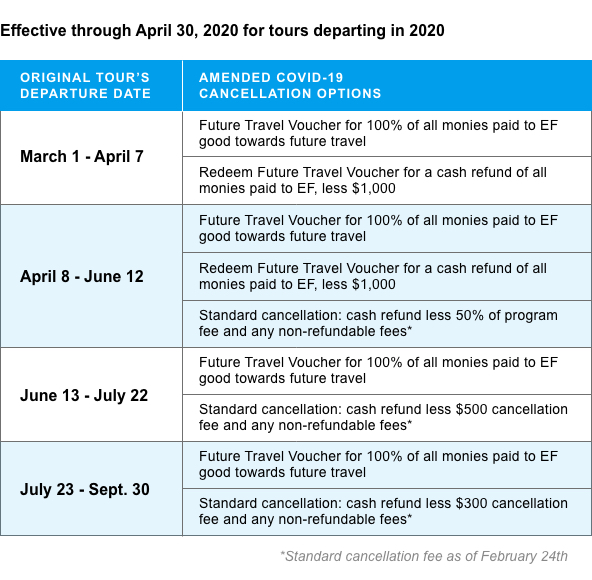 7. Why can't I get all my money back?
We begin planning your tour as soon as you enroll, to ensure the highest quality service at the lowest price. For example, EF Educational Tours books large volumes of flights, hotels and entrances months, if not years, in advance. Many of these at a group booking level which is subject to different cancellation rules than typical consumers. For this reason, EF has designed its cancellation policies to take into consideration the investments we make in your tour long before it departs. Currently we are in an unprecedented situation that is affecting everyone across the globe. As such we have made adjustments to our standard policies to provide expanded options to our groups during this time.
In addition to freezing our cancellation fees so that they do not increase through April 30th, we are also offering very flexible rebooking options, holding pricing through 2021 for any of our groups that want to move their tour to a later date and making an exception by offering
Future Travel Vouchers
to any individual traveler who cannot travel on their group's future tour. We have also now made the vouchers even more valuable – Future Travel Vouchers will now be issued for all monies paid to EF including all non-refundables. Additionally, travelers may now redeem their Future Travel Voucher for a refund of all monies paid to EF minus $1,000. This amount allows us to only partially cover costs related to non-recoverable payments to our suppliers, our staff, and the investment we continue to make in itinerary, date and destination flexibility.
¿Prefieres leer en español? Vea nuestra declaración de COVID-19 (Coronavirus 2019) aquí.
For inquiring journalists please email mediainquiry@ef.com.